I found out this week that my cousin Wendy got some very sad news. Her dog, Moby has cancer. My heart hurts for her. This is a very special member of her family. She has had this dog in her family for years.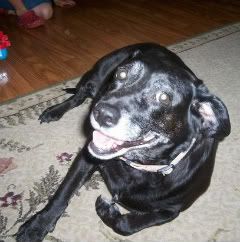 Moby
Anyone who has never had a pet can not understand the overwhelming love you can have for them. They ease into your heart before you know what has hit you and when you lose one, the grief you have is almost unbearable. What makes this grief harder is that, most people don't understand this kind of loss.
We lost a very beloved dog named Jasper last year. His mama belonged to us and we were there the night he was born. We picked him out from a litter of eight. The whole family fell completely and utterly under his spell. The day he died was devastating to us. We found ourselves still looking for him when we came home. He was so special and I don't know that there will be another like him.
Jasper
We have three red poodles named Brandy, Whiskey & Bailey. They are special too. Brandy was the first one we got.
Brandy
I told my husband he could get a new set of golf clubs if he would just let me have her. Well guess what........she is his baby!
The next one we got was Whiskey(that is what you get when you let a teenage boy name a dog)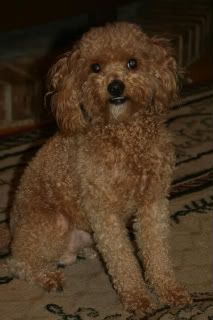 Whiskey
We got him by accident. My son wanted a male red poodle and when we saw him he begged his Dad to let him have it. His Dad told him that if he could talk them down on the price he could get him.......well he did.......and we took Whiskey home. Whiskey is attached to me.
Our third red poodle is the baby of Brandy andWhiskey her name is Bailey.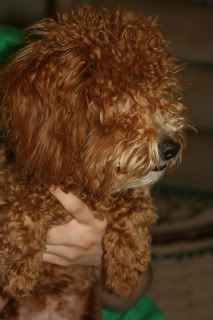 Bailey
When she was born she was very tiny and her eyes did not develop so, she is blind. Don't feel sorry for her though. She is like any other dog. SHE does not know she is different. She runs plays and can go anywhere she wants. Bailey is the whole families baby.
We also have four puppies from a second litter that we are trying to find homes for now. I am in love with every one of them. We had five but, one of them has found her new home.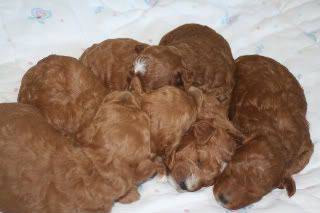 We also have two more dogs who are outside dogs. They are country dogs big time. They chase squirrels & cows and they play in the creek all of the time. Chelsea is starting to get pretty old. She was abandoned by the road as a puppy and we brought her home to be a part of our family. She is some kind of terrier. Holly is part lab and part bulldog. She is the mommy to Jasper. She is solid black and she is a rescue dog too. They are special to us too.
Chelsea
Holly
We also have two quarter horses, Dixie and Gypsy. When we got them they were in bad shape. They had rain rot and were way under size. We got them in November and they have gotten so much bigger and they are beautiful. We still can't ride them yet but we love to spend time with them. There is just something so majestic about a horse.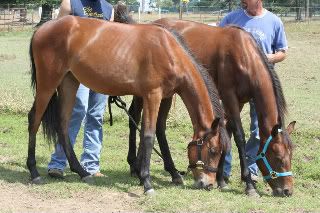 Pets are special. They love you no matter what. They don't care if you are too fat or too skinny. They don't care if you are beautiful or ugly. They don't even care if you have any friends. All they know is that your are their people. They are thrilled to see you whether you have been gone a week or five minutes. How many people feel that way about us?
Pets are our very special family too!