Bama Jam is a huge three day concert event, that is held in Enterprise, AL. It is held in June and this was the second year. A guy named Ronnie Gilley is behind this awesome production. This year we got to go and we had a ball.
On Thursday night me, the Princess and Sweetie Pie went. Enterprise is about a 45 minute ride from here. Then you have to add the one hour it took us to go just a few miles to the Bama Jam site. It was well worth it! On this night, we saw Blake Shelton and Taylor Swift!
Well.....except when these drunk people thought it would be okay to stand in front of us!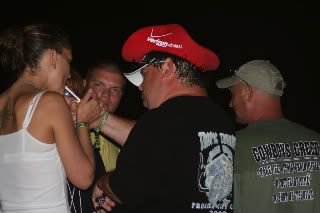 We skipped Friday night and decided to go Saturday instead. My son the Fireman joined us on this trip. The traffic was a lot better and we made the trip in no time at all.
On Saturday we got to see Heidi Newfield, Pat Green, Gary Allan, Jason Aldean, Brooks & Dunn and Kid Rock! What an awesome line up!
To start with The Princess and her big brother the fireman looked a little bored...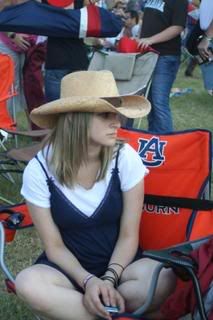 Big E and his Sweet Pea joined us for the fun.....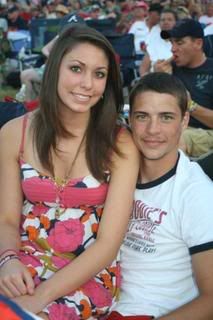 and so did some of their friends......
Ashley & Seth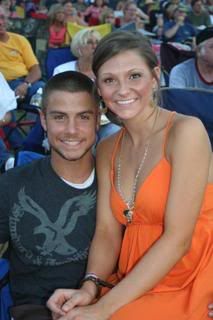 and Haley & Cam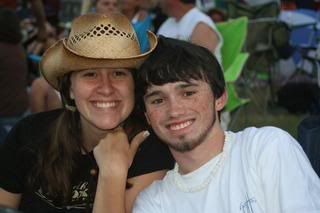 We saw some really strange people......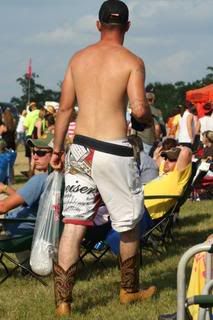 and the beer belly twins made an appearance.....
There were some cute people there too.....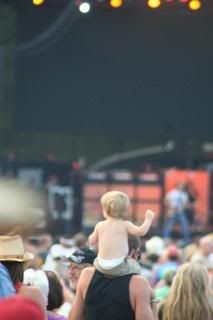 and finally......the Fireman perked up.......maybe it was because he was with Sweetie Pie.....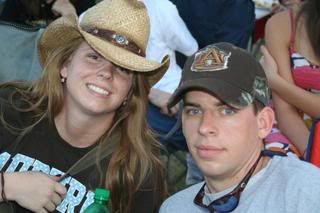 don't you just love those blue, blue eyes?!
Any way, we had a wonderful time at Bama Jam. If you get the chance to go next year, I would highly recommend it. Bring your lawn chair and prepare for a big crowd. There were 121,000 people there just on Saturday!
The music was great but, the company I had was even better. What more can you ask for......great music and a whole weekend with my kids and their friends!