I assume most everyone knows what an azalea is......right? Maybe not. Well here is a picture of one!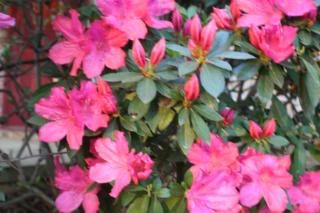 They grow on a bush. Some bushes grow really big and some are miniature size. They come in all kinds of colors. There are all shades of pink, white and even a dark reddish pink......like this one.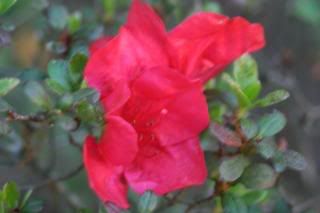 One of our local towns host the Azalea - Dogwood Trail every year. It is held in March or April. It depends on when the blooms are at their best. This year the blooms were beautiful and the date was set. Then........we had these terrible thunderstorms to move through and.......just about all of the blooms were beat off of the bushes. But, the show must go on.
The Azalea trail winds throughout the historic district of Dothan, AL. There are beautiful girls of all ages sitting on the lawns. They dress in antebellum dresses and hold their beautiful parasols.
A family member of ours had her little girl in it this year and I had the pleasure of taking a few pictures of her before the trail started.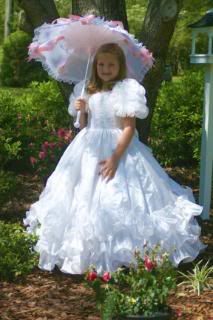 Notice the huge azalea bush behind her in this one. We had to go to the next door neighbors to take this picture. The house she was supposed to be in did not have any blooms left on the bushes.
The dresses they wear are so elaborate. I had to take a picture of the back of this dress. Just look at the detail!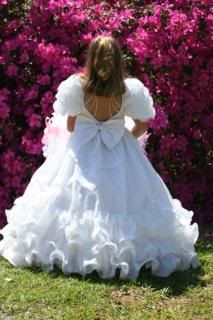 The parasol she is holding was hand decorated by her Grandmother!
This little beauty was not camera shy at all. It was so much fun taking her picture!
If you ever find yourself in southeast Alabama in the spring, you need to come check out our beautiful azaleas. Really try to catch the Azalea Trail. The beautiful girls in their antebellum dresses, sitting amongst the blooms, are a sight to behold.