Since it is Big E's senior year....I have been trying to document as much of this year as I can. That is how I found myself at a very interesting pep rally. The Senior football players dressed as the cheerleaders and the cheerleaders became football players.
I have not laughed like this since the accident. I laughed so much my cheeks hurt. The boys did a dance routine and they did a few cheers.
Notice the legs on Big E and the shorts and boots are just lovely.
Oh my gosh!!!!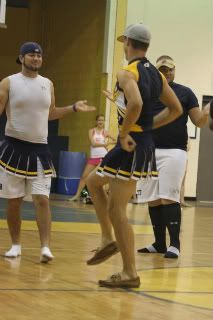 This is Hicks he was a hoot!
Notice the look that the friend on the back is giving Big E!
This is Big E and one of his best friends Seth. They are the only two that actually fit in the whole cheerleader suit......too funny.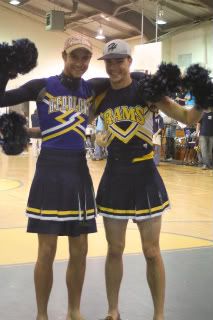 The cheerleaders were adorable!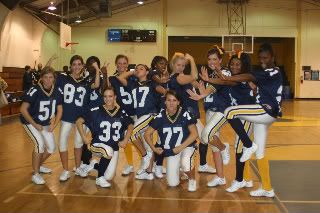 The senior football players have been a complete joy for me this year. They are great kids and they are so close. I love these boys.....errrrrrr.....girls.....nah....there boys.....just really pretty boys!
These days it is harder for me to smile and even harder for me to really and truly laugh. These kids gave me a gift on this day! I was able to laugh and smile in a way I have not done in a long, long time. Thanks to these kids.....I had a great day!