Around here football is a big deal. Every Friday night everyone gathers at the local high school football field to watch the kids play in the band, cheer and play football. The homecoming game is a big deal. We have a whole week of homecoming fesitvites that end with a homecoming parade the day of the game. Each high school class has to make a float to go in the parade and the floats are judged. The kids build their floats in different locations so that the other classes can not see what they are doing.
The kids spend a lot of time on the floats and they work really hard.
Every one joins in to make their float look great!
There is also a lot of playing around. This year there were some hay bales at the barn where the kids were working. We just could not keep them off of them. So....I just decided to take advantage of that and get their pictures.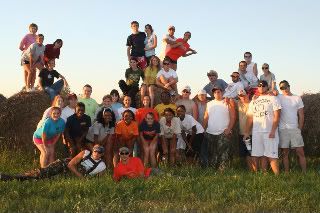 This group of boys have been friends forever. They are so close and I feel like they always will be.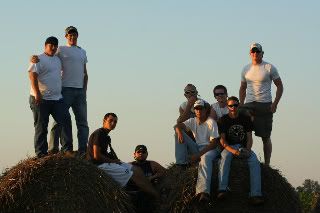 What a crew!
Once they got through playing they got back to work!
This was the end result.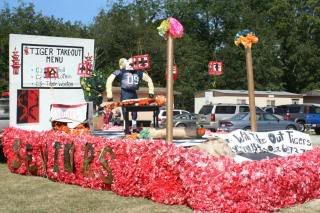 After getting 2nd place for the last three years.....they finally won the float contest. Way to go Seniors! They won the pep rally and they won their last homecoming game.
It is fun living in a small town because you get to do things like this!